Houston Weapons Possession Lawyer
Gun Crimes Attorney Serving Houston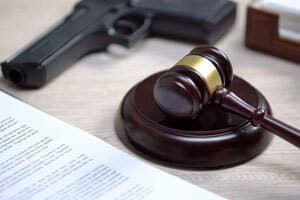 If you are charged with weapons possession in Houston, you could face a felony conviction. There are several laws regarding the purchase and ownership of weapons in the State of Texas, including those which limit your right to possess a firearm. Houston weapons possession lawyer, James Alston is a seasoned litigator who will fight hard to protect your rights. If you are convicted of weapons possession, you will likely face incarceration. Contact James Alston Law today for a consultation.
Felon In Possession
Texas Penal Code 46.04 prohibits felons from possessing a firearm "after conviction and before the fifth anniversary of the person's release from confinement following conviction of the felony or the person's release from supervision under community supervision, parole, or mandatory supervision, whichever date is later;" or at any location other than their own home after the five (5) year period.
Persons convicted of misdemeanor assault, under Section 22.01, against a family member or member of the household are also prohibited from possessing a firearm within five (5) years of their release from confinement and community supervision. Texas has also made it unlawful for those with a protective order or restraining order against them to possess a firearm.
Guidelines For Firearms
Several laws govern your right to purchase, sell, or carry a firearm. The guidelines regarding gun ownership are continually changing in the State of Texas. It is imperative that you understand your rights and consult a leading weapons possession lawyer if you are facing gun charges in Texas.
Unlawful Possession
While Texas has some of the most lenient gun laws in the nation, there are still a number of restrictions to your right of possession. The unlawful possession of a weapon can have severe penalties, including a high fine and mandatory incarceration. There are defenses to illegal possession charges, but you need to consult an experienced defense attorney immediately after your arrest.
Hire The Right Weapons Possession Lawyer In Houston
Attorney James Alston is one of Houston's elite criminal defense attorneys. He began his legal career as a prosecutor with the Harris County District Attorney's Office. During that time, he prosecuted thousands of cases, including weapons cases. His intimate knowledge of how prosecutors prepare trials and secure convictions makes him uniquely able to develop a strategic defense for his clients. If you are facing weapon possession charges in Texas, you need experience you can trust. Contact James Alston Law today.