Houston Prostitution Defense Lawyer
Experienced Prostitution Defense Lawyers Serving Houston, TX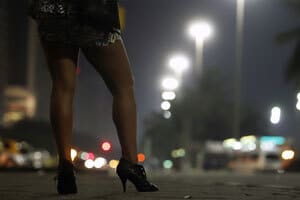 Prostitution is known as an offense against public order and decency. It is listed under Chapter 43 of the Texas Penal Code. Sec. 43.02 (a) states that a person may be charged with prostitution if he or she "knowingly offers or agrees to receive a fee from another to engage in sexual conduct" or (b) "knowingly offers or agrees to pay a fee to another person for the purpose of engaging in sexual conduct with that person or another."
Conviction of prostitution under these statutes can have serious consequences. Depending on the offense, you may be charged with a misdemeanor or a felony and could face significant jail time. Sex crimes of any nature are heavily prosecuted by the Harris County District Attorney's Office.
If you have been charged with prostitution, you need the help of an experienced Houston Prostitution Defense Lawyer. Attorney James Alston is a former state and federal prosecutor who has extensive practice handling sex crime cases. His time as a prosecutor taught him how to identify the weaknesses in a state's case. Mr. Alston will represent you every step of the way, fighting hard to protect your reputation and your freedom.
How to Defend Against Charges Of Prostitution
To successfully defend against a prostitution charge involves strategy, know-how, and experience. James Alston will initiate several important actions in the early stages of your defense, which may include:
A full investigation into police actions to identify any rights violations or acts that may constitute entrapment.
A careful review of police reports, video evidence, or other evidence the prosecutor will use to attempt to convict you on the charge to identify weak points in the case against you.
An evaluation of the evidence to determine whether your case involves a failure to have probable cause to arrest you.
Promotion Of Prostitution
Promotion of prostitution is a separate crime under Texas law. Under Sec. 43.03 (a) a person may be charged with promotion of prostitution if he or she knowingly:
Receives money or other property pursuant to an agreement to participate in the proceeds of prostitution; or
Solicits another to engage in sexual conduct with another person for compensation.
Promotion of prostitution can carry with it a state jail sentence and may be charged as a felony of the second or third degree depending on the circumstances. If a person operates a "prostitution enterprise" with two or more prostitutes, they may be charged with aggravated promotion of prostitution and face a first-degree felony conviction if they employ a person under the age of 18.
Compelling Prostitution
The Texas Legislature under Penal Code Sec. 43.05 says that a person  may be charged with compelling prostitution if he or she knowingly:
Causes another by force, threat, or fraud to commit prostitution; or
Causes by any means a child younger than 18 years to commit prostitution, regardless of whether the actor knows the age of the child at the time of the offense.
Compelling prostitution is a serious offense that can be charged as a felony in the first or second degree, depending on the nature of the crime.
Attorney James Alston: Criminal Defense Specialist In Houston
If you are arrested for prostitution or a related charge, hiring the right attorney can be a daunting task. You need someone with specific knowledge about sex crimes and how the district attorney's office will prosecute these cases. You need someone familiar with the local courts. You need someone with experience that you can count on. Attorney James Alston is a former Harris County District Attorney who understands the complexities of sex crimes. He knows how to build a strong defense for your case, no matter what charges you are facing. A conviction for prostitution can ruin your chances of securing gainful employment, it can embarrass you and your family, and it could land you in jail. James Alston offers some significant benefits to his clients, including:
Former prosecutor with eight years serving in the Harris County DA's office
Board-certified with a specialty in criminal law
Your case will be handled directly by Mr. Alston, not an associate or assistant
Expert investigations are performed to discover supporting evidence for your defense
Contact A Houston Prostitution Defense Lawyer Today
If you are facing charges related to prostitution, whether the charges filed are a misdemeanor or felony, you need to ensure your rights and interests are zealously protected by a criminal defense lawyer you can trust. You want a lawyer who knows the justice system from the inside out – a former prosecutor. Call the law office of James Alston Law for help from a highly-skilled prostitution lawyer in Houston.