Houston Federal Drug Crimes Lawyer
Experienced Federal Drug Crimes Attorney in Houston, TX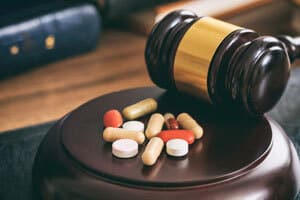 The United States Drug Enforcement Administration (DEA) is tasked with enforcing "controlled substances laws and regulations of the United States."  This includes bringing to justice individuals or organizations "involved in the growing, manufacture, or distribution of controlled substances."  The DEA primarily enforces the laws and regulations under the Controlled Substances Act.  Under the Controlled Substances Act, drugs are divided into five (5) schedules based on their potential for abuse and dependence or lack of overall safety.  Through the Controlled Substances Act and other federal guidelines, a person may be charged with several different drug crimes depending on the circumstances of the case. A Houston Federal Drug Crimes Lawyer such as James Alston will be able to help.
Federal Drug Trafficking
According to 21 U.S.C. § 841(a) it is unlawful for a person to knowingly or intentionally "manufacture, distribute, or dispense, or possess with intent to manufacture, distribute, or dispense, a controlled substance." 21 U.S.C § 841(b) makes it unlawful for a person to knowingly or intentionally manufacture a counterfeit substance.
Drug trafficking penalties depend on the type and amount of drug that is possessed.  Maximum penalties can range from five (5) years to life in prison and fines in excess of $1,000,000.
Federal Drug Possession
21 U.S.C. § 844 makes it "unlawful for any person knowingly or intentionally to possess a controlled substance."  Penalties for a 1st offense simple possession charge can include up to one (1) year in state prison and a fine of not less than $1000.  A fourth or subsequent simple possession conviction can result in a fine of up to $250,000 and a maximum prison sentence of three (3) years.
Other Related Drug Crimes
In addition to drug trafficking and possession, a federal prosecutor may pursue the following drug-related charges:
Attempt and Conspiracy (carries with it the same penalties as the underlying offense if convicted)
Narco-Terrorism (21 U.S.C. § 960a)
Drug Smuggling (carries a maximum sentence of twenty (20) years in prison if the goods are smuggled into the United States)
Racketeering (Charged under RICO)
Money Laundering
Defending Against Federal Drug Crime Charges
Being convicted of a federal drug crime can affect your entire life.  Drug charges are a serious offense that can result in life in prison. In order to protect your rights and your freedom, you need an experienced Houston Drug Crimes Lawyer.
Contact Federal Drug Crime Defense Attorney James Alston
Attorney James Alston is a former state and federal prosecutor that will fight hard to get your charges reduced or even dismissed.  If you or a loved one has been charged with a federal drug offense in Houston, TX, you need an advocate who is ready and willing to take your case to trial.  Contact Houston Federal Drug Crimes Lawyer James Alston today.