Houston Drug Crimes Lawyers
Expert Drug Crime Attorneys Serving Houston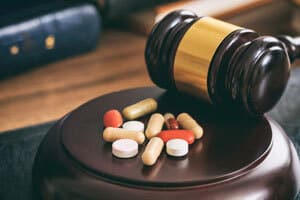 Being charged with a drug crime in the State of Texas can result in significant jail time if convicted. State laws prohibit the possession and distribution of certain drugs. If you have been charged with a drug offense, you need experience you can trust. In his over 25 years of legal practice, Attorney James Alston has worked as both a State and Federal prosecutor. During his time with the United States Attorney's Office, he was assigned to the Organized Crime Drug Task Force. His experiences allow him to prepare a strategic defense for his clients. Contact Houston drug crimes lawyer James Alston now to schedule a consultation.
Prescription Drugs – "Pill Mill"
"Pill Mill" is a term investigators use to describe pharmacists, doctors, or other medical professionals who distribute prescription drugs for non-medical purposes.  Because of the opioid crisis that has devastated the country, law enforcement agencies and regulators are keeping a closer eye on clinics that fill an unusually high rate of prescription pain pills.
Mr. Alston has extensive experience and training in federal law enforcement investigative techniques including the use of confidential informants, Title III wire intercepts (telephone taps), cell site tracking devices, and surveillance. As an Assistant United States Attorney, Mr. Alston prosecuted numerous federal cases from the initial stages of an investigation through jury trial.
Drug Possession Charges
Under the Texas Controlled Substances Act, drugs are classified into Schedules I, II, III, IV, and V.  The classification depends on whether the drug has a high potential for abuse, has an accepted medical use or abuse of which is likely to lead to physical or psychological dependence.  Penalties for drug possession charges depend on the type of drug and the amount possessed.
Texas Drug Trafficking Offenses
The manufacturing or delivery of controlled substances is unlawful under Section 481.112 – 481.114 of the Texas Controlled Substances Act.  Penalties for drug trafficking depend on the type of drug and the amount in possession. Depending on the circumstances of the case, a person could face significant jail or prison time, a fine, or both.
Drug Trafficking Penalties
The penalties for drug trafficking in the State of Texas can be severe, including up to life in prison for trafficking controlled substances listed under Schedule I or Penalty Group I of the Texas Controlled Substances Act.  In addition to a jail sentence, you could face a fine of $10,000 and up to $250,000.
Texas Cocaine Charges
Possession of cocaine or Manufacturing and Delivery of cocaine are severe offenses in the State of Texas and can result in life imprisonment in the Texas Department of Criminal Justice.  Cocaine is an illegal substance classified into Penalty Group I of the Texas Controlled Substance Act.  If you are arrested for cocaine charges in Houston, Texas, you need an experienced criminal defense attorney.
Texas Marijuana Charges
Possession or the cultivation of marijuana is still illegal in the State of Texas.  Possession of under two ounces of marijuana can lead to up to six (6) months in jail and a fine of up to $2000 or both. Penalties for the possession or sale of marijuana increase depending on the quantity confiscated by law enforcement.
Hire A Texas Drug Crime Lawyer
The State of Texas takes the possession and manufacturing of drugs very seriously.  If you are caught with even a small amount of drugs covered under the Texas Controlled Substances Act, you could face significant jail time.  You need a knowledgeable Houston Drug Crimes Lawyer who will fight the charges against you, protecting your rights and your freedom. Attorney James Alston is an experienced Texas Drug Crime Attorney.  As a former state and federal prosecutor, Mr. Alston spent years prosecuting drug crimes. Now, he uses that knowledge to help build strategic defenses for his clients. Contact him today.