Houston Theft Crimes Attorney
Experienced Burglary Defense Lawyers Serving Houston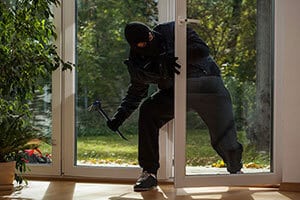 Texas theft and robbery crimes encompass a broad area of criminal law. Generally, falling under Section 29.01, 30.02, and 31.03 of the Texas Penal Code, these offenses can carry significant penalties according to our Houston Theft Crimes Attorney. Some of the most common theft and robbery crimes prosecuted in Texas include:
Robbery
Defined under Section 29.01 of the Texas Penal Code, a robbery occurs when a person uses the threat of bodily injury or death or "intentionally, knowingly, or recklessly causes bodily injury to another" during the commission of a theft. Robbery is charged as a second-degree felony punishable by up to twenty years in prison.
Burglary
Defined under Section 30.02 of the Texas Penal Code, burglary involves the unlawful entering of a building or habitation with the intent to commit a felony, theft, or assault. In most cases, burglary will be charged as a felony. If convicted, you could face years in prison and a fine of up to $10,000.
Bank Robbery
Can be charged as a state or federal crime, or both. It is imperative that if you are accused of bank robbery in Texas, you consult with a criminal defense attorney that can represent you at both the state and federal level. The two cases are independent of each other and must be handled efficiently to protect your rights and your freedom.
Shoplifting
According to Texas law, all theft offenses, including shoplifting, are consolidated under Penal Code Section 31.03. The penalties for shoplifting and other theft offenses depend on the value of the property stolen. They can range from a low-level misdemeanor to a felony with mandatory state imprisonment.
Charged With Theft Or Robbery? Contact Our Houston Theft Crimes Attorney Office Today.
If you have been charged with theft or robbery in Texas, your first call should be to a knowledgeable Houston criminal defense attorney who will help fight the charges against you. It is essential to have aggressive legal representation at all of your court appearances. As a former prosecutor, he knows what it takes to secure convictions. He uses that inside knowledge to prepare strategic defenses for his clients, always striving to get their cases reduced or even dismissed. Contact Houston Theft Crimes Attorney James Alston today for a consultation.